Absolutely amazing. Thank you
One Perfect Bite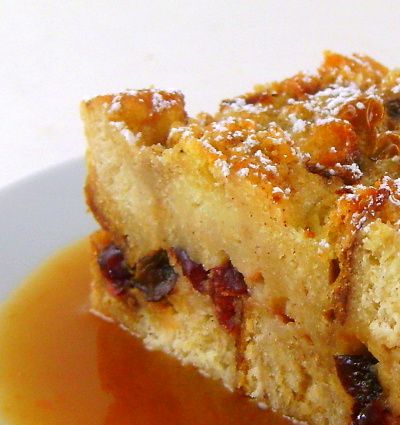 14 ounces (approximately 7 large) stale croissants, cut into 1-inch cubes and lightly toasted
1 cup dried, sweetened cranberries
4 large eggs, lightly beaten
3 cups half-and-half
1/2 cup packed light brown sugar
1/4 cup butter, melted and cooled
1/4 teaspoon salt
1-1/2 teaspoons cinnamon
3/4 teaspoons ground ginger
3/8 teaspoons allspice or ground cloves
3/8 teaspoons nutmeg
1 tablespoon vanilla
1 tablespoon freshly grated orange zest
1/3 cup freshly squeezed orange juice
Topping:
1/4 cup light brown sugar
1/2 teaspoon cinnamon
1/4 teaspoon ginger
1/8 teaspoon allspice or ground cloves
1/8 teaspoon ground nutmeg
Orange Sauce:
1/4 cup butter
1 cup packed light brown sugar
1 tablespoon all-purpose flour
1/8 teaspoon salt
1 cup water
1 tablespoon freshly grated orange zest
1/2 cup freshly squeezed orange juice
1 teaspoon vanilla
Preheat the oven to 350 degrees.
Generously grease a 2 1/2-quart (9x11 x3-inch) baking dish.
Arrange half of croissants pieces on bottom of prepared dish
Sprinkle with cranberries, then cover with remaining croissants. Set aside.
Combine eggs, half-and-half, 1/2 cup brown sugar, melted butter, salt, spices, vanilla, orange zest and juice in a blender container
Pulse until well combined. Pour mixture over cubed croissants, pressing down with back of large spoon to moisten.
Allow to sit for 30 minutes.
To make topping, combine 1/4 cup brown sugar and spices in a small bowl; sprinkle on top of croissant mixture.
Place dish in a large roasting pan; transfer pan to middle shelf of the oven.
Pour hot water into roasting pan until it comes halfway up the sides of dish.
Bake until the custard is softly set, about 55 minutes.
While pudding bakes, prepare Orange Sauce:
Combine butter, 1 cup brown sugar, flour, salt, water, zest, juice and vanilla in a heavy 2-quart saucepan Cook over medium heat until mixture thickens and looks syrupy.
Allow pudding to cool about 20 minutes before serving.
Pass the sauce separately in a sauce boat.