Layers of chocolate cake, fudge, and a strawberry pie filling for a delicious dessert. Thank you
Inside BruCrew Life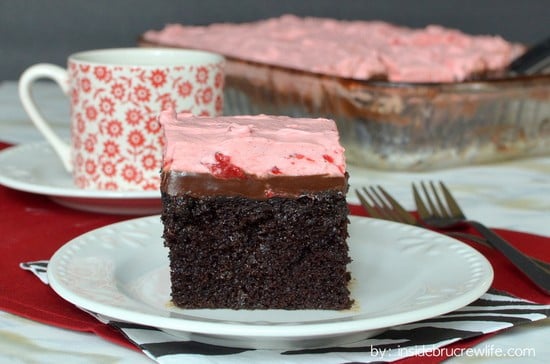 1 dark Chocolate Fudge cake mix plus ingredients the box
1 14oz can sweetened condensed milk
1 container Classic Chocolate Frosting
1 can Strawberry Pie Filling
1 8oz container Cool Whip
Prepare the cake according to the box directions.
Bake at 350* for 25-27 minutes.
As soon as the cake comes out of the oven, poke the cake with a fork all over.
Make sure you cover the cake with holes.
Drizzle the sweetened condensed milk slowly over the top of the hot cake.
Make sure to fill all the holes.
Let set until cool.
Remove the foil top of frosting.
Place in the microwave for 30 seconds.
Stir and spoon over cooled cake.
Spread over the entire top.
Refrigerate.
Open the can of pie filling.
Use a fork to break apart the strawberry chunks.
Fold into the Cool Whip.
Spread the strawberry Cool Whip over the top of the cake.
Cut into squares
Keep refrigerated.